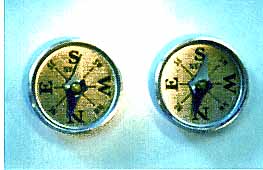 Compass Earrings ( Actual size 5/8" in diameter)
These compass earrings have the following information on the back of the hang tag:
COMPASS REALLY WORKS! Never lose your way again! Always find your way home! These earrings are great for hikes, picnics, day trips, vacations, boat excursions, and those "late night" parties! These earrings are a great gift for your friends and relationss, who have a hard time navigating, or are constantly getting lost!!