www.compassearrings.com
Compass Earrings
www.compassearrings.com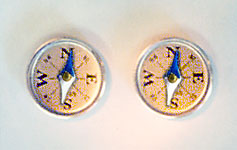 These post style earromgs are made of a lightweight metal. They are a silver color. The pointer is blue that points North and Silver points south.
A unique gift and cute gift. Actual size 5/8" in diameter
These compass earrings have the following information on the back of the hang tag:
COMPASSES REALLY WORK!
Never lose your way again! Always find your way home!
These earrings are great for hikes,
picnics, day trips, vacations, boat excursions,
and those "late night" parties!
These earrings are a great gift for your friends and relations,
who have a hard time navigating, or are constantly getting lost!!
$9.95 each pair

(Pressing the Buy Now Button will show the Total Price including Shipping/Handling added in)


No Sales Tax

~

Except for Residents of California

~

If you want the clip on style call or email us.

-----------------------------------------------------------------------------------


We also sell the mini compasses by themselves.


12 mini compasses for:

$34.95


(Pressing the Buy Now Button will show the Total Price including Shipping/Handling added in)
~ No Sales Tax ~ Except for Residents of California ~

Call us if you would like larger amounts.

Or you can send us a check or money order to our address below:

Reflections
P.O. Box 1163
Rough & Ready, CA 95975
(530)273-9378

Wholesale inquires welcome